From December 2006 (my first blog post ever):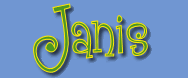 I wear a lot of hats. It is not a bad thing, but it can be sometimes quite overwhelming. I find it hard to keep everything going. It is much like a juggling act-trying to keep all those balls in the air. I don't mean to sound like it is a bad thing, rather it is just challenging to do it right. I love my life and I love the fact that I have several different facets to my personality. 2007 is going to be the year that I endeavor to get it all under control, but more about that in another post. Can you believe that 2006 is almost gone? I am shocked, but very glad. This year has been a year of extreme ups and downs and I am ready to begin anew. It feels good to have a new start-no matter how you get it. Now to tell you about me. I am a 35-year old wife to a 41-year old dear husband (dh) that I love and trust implicitly. I am mom to a 10 year old boy (ds), a 7 year old girl (dd1), and a 2 year old girl (dd2). I stay at home and work at home as a freelance writer and editor. I am devoted to my family and very close to my mom and my sister. I am most devoted to God, who gives me strength to keep all of these balls in the air. That is my strength and my life. I look forward to sharing my thoughts with you more tomorrow!
Today:
Wowzers. It's been almost 12 years since this first post and I am still trying to find my passion and purpose. Today I am 47 and am mom to 2 adult children and a 14 year old. I work as a Family Engagement Coordinator in a local elementary school and sell Lularoe in the side. I am in a place of flux, with God calling me to more. I can't wait to see what God has for me!!